The TRD CAI (cold air intake) is an absolute must buy for the Hilux, TRD Hilux, Prado, Tacoma, Tundra, FJ Cruiser and Japanese Spec Land Cruiser!
Anything that is powered by the Toyota 4.0Lt V6 1GR-FE I would go so far as to say I have never in my whole time playing with engines seen something work so well for the dollars spent (aside from NOS). The TRD CAI also fixes a number of problems including "Heat Soak" to the filter area which is one of the causes of poor or unstable fuel economy - there will be more on that later in "How the TRD CAI works and problems it fixes below".
The Toyota TRD Engineers really have done an awesome job on their R&D
Below Hilux with TRD CAI from Tacoma 2005-2011 TRD CAI P/N PTR03-35090 from TRDparts4u Dallas Toyota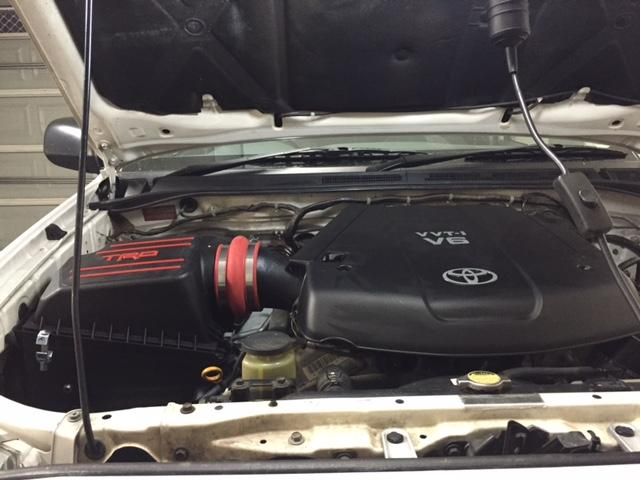 Lets get right into this, but first of all let me explain a couple of things. All my Dyno runs are back to back on the same Dyno so they are accurate but dont look at the outright numbers but look at the total gain as you cannot compare Dyno's to other Dyno's. Also my Gains are "Without Restrictive Snorkel" but with the 2009-2011 Tacoma Headers and Tuned Length Burns Stainless "Y" pipe (found here
viewtopic.php?f=81&t=23730
) and on 98 octane so you may not achieve the same "Outright Gains" --- by the same token if you are running the TRD Supercharger your "Outright Gains" may be much larger as Supercharges and Turbos dont suck very well. And once last thing - its all dependent on how well you install the TRD CAI ensuring pipe work lines up well.
Oh and one (more) last thing ---- just encase the "Harold Scruby's" of this world read this I did this for more "Torque" and better fuel economy and for better haulage and driving experience on road and off and not to turn this into a drag car.
TRD CAI Hilux Dyno Results - a proven 24kw (32 British HP) at the rear wheels and a massive 15.66% NW Gain
The massive torque gain of 15.66% is flat almost right throughout the entire RPM range!
Lets put this into prospective
With Tacoma 2009-2011 Headers and Burns Stainless Tuned length exhaust (
viewtopic.php?f=81&t=23730
) and the TRD CAI the total gain on this vehicle is 27.7% KW and 23.96% NW gain at the rear wheels.
We could be looking at approximately 223 Kw and 466 nw at the engine!
and thats with standard ECU, Standard cams and standard cam gears and no forced induction etc.
The results are absolutely staggering and Peter from Advan Performance who personally did the Dyno run had never seen anything like it before. We were both very skeptical at trying the TRD CAI as so many claims are made about performance gains with things like this. I was so skeptical the TRD CAI sat in my garage for almost 12 months.
TRD Hilux owner offer

As mentioned above the results are with the Tacoma Headers, Tuned length exhaust and Tacoma TRD CAI on my naturally aspirated Hilux and they are now in the same numbers as the "Standard TRD Supercharged Hilux outputs". So I would like to offer to someone in Sydney with a good condition standard TRD Hilux with standard size wheels and tyres a free dyno run to find out.
If you are a TRD Hilux owner wanting to install the TRD CAI it would be do to find out a before and after result so the offer of a free dyno run in Sydney would be good value for you - plus we can then post here on the results for the TRD Hilux
On the road
Even after seeing the Dyno results its not until you get it on the road and see just how much the Torque affects your driving. You can physically feel how much less throttle your using just to drive around. We already know that the 1GR-FE produces more torque just off idle than the maximum the D4D does but when you install the TRD CAI you are practically just idling around.
When loaded out on the Hiway it holds gears for so much longer and the only word that I can give it is -- Effortlessly! It tows or Hauls just so effortlessly.
An example I would use is that it seems people in Ford Rangers seem to feel compelled to show you how "Masculine" their ranger is; but even in standard form a 176Kw 376NW Hilux will give a ranger a run and when they come across a TRD Lux their left blowing diesel smoke. But I had a funny experience towing a mates 1,800kg ski boat back from the Hawkesbury up the massive hill just after the river on the hi-way where the speed limit is 110klm. Sure enough along comes a Ford Ranger also towing a Ski boat and hes right on my tail --- I have no interest in giving the NSW Gov any more revenue so I stick to the limit. Before we hit the hill, sure enough he decides to "Flex His Ranger" and pulls out and I know hes giving it to it as its puffing hard. I "Effortlessly" squeeze on a little more throttle but nothing too much just to maintain momentum; while he looked busier than a Minster filling out an expenses form. The Ranger guy was so confused he sat behind us the rest of the way. When we were off the hiway he pulled up next to us at the lights and wanted to know what I had done to the "Hilux Diesel"
Economy
This is truly incredible. I do a run from inner west Sydney (No load) in heavy traffic up to Nelson Bay and load up around 800Kg and come back. The round trip is 411klm and I have driven it a number of times so I have logged a number of fuel economy figures. The improvement after installing the TRD CAI was so good at a saving of 2.66Lt per 100Klm I did not believe it at first so I did the run again and achieved 2.48Lt saving per 100Klm.
For the record on the second run I made an effort to fill up at the same fuel bowser when I left and when I came back on the same day. I will do more runs and I will post more results but you would pay off the TRD CAI in fuel savings in a year.
Please note however around town the fuel saving is much less and very hard to get accurate figures in Sydney due to crazy traffic but it looks like around 0.4 - 0.5 lt saving per 100klm. Still an awesome result but I will post more on around town.
TRD CAI - Noise or Sound
I have read a number of people saying that its noisy but I would have to disagree and in fact I think it might be quieter than the old set up especially driving around town "Not Flogging it". Even at wide open throttle I would have to say the old assembly just makes a lot of air noise but the TRD CAI you can hear the growl of the engine rather than that suffocating sound.
The Growl is enjoyable and not intrusive - in fact you may find yourself driving for economy so you deliberately load up the engine with small throttle movements so you hear it. It can be confused for a V8 at times.
I will concede that at wide open throttle the growl is noticeable but not so much inside the cab as it is directed forward -- also if you are running the TRD Supercharger I think the whine could be louder than standard.
Overall Im very happy with the sound and much prefer it as its quieter for me but I now can actually hear the engine under load.
How the TRD CAI works and problems it fixes below
Number one problem -- heat soak
The placement of the original filter assembly by Toyota right on top of the engine may have been a wonderful way for Toyota to save money as a world engine for different models but its absolutely detrimental to consistent fuel economy and power/torque. On the Dyno and with the standard filter assembly in place after only 2-3 runs you see inlet air temp go up and the ECU starts backing off ignition and over fuelling the engine for unnecessary over protection.
I have to stress - "unnecessary over protection" however I would use 95 octane or above with the TRD CAI in place. I will also add to put anyone's mind at ease that the overfuelling is almost criminal and the backing off of ignition is insane. I have road tested this vehicle and Dynoed it and its still overly overly safe and you could safley lean it out more at WOT. This TRD CAI was designed and tested by Toyota Engineers so it still meets their safety parameters
While this happens to the original filter assy (heat soak) all the time driving around town giving extreme variable fuel economies, I have actually experienced a worst case scenario where I was getting great fuel economy out west than I filled up had some lunch got back in the truck and it was drinking fuel like a big block Chev in Sydney traffic. This is not good when you are working on distances to the next fuel station and this is why Toyota has moved the Filter assembly off the engine on the "Dual VVTI 1GR-FE". The TRD CAI totally overcomes the "Heat Soak Issue"
Number 2 The Main Reason the TRD CAI works
The main reason why it works so well is right where the AFM sits the diameter of the pipe work is slightly bigger than the original assy. This than tricks the overly conservative Toyota ECU into thinking there is not as much load on the engine. This in turns reduces the point at which the ECU starts to back off ignition. It also leans out a ridiculously over protected and over fueled engine at the same loads. Both the ignition and a 'corrected" AFR provides more torque and more power and this also results in better fuel economy.
Number 3 TRD Pipe Work Again
As opposed to the original pipe work there is now a perfect "Converging Duct" for better flow and "Ram Tube Effect"
Also as compared to the original pipe with its very restrictive "Max Flow Venturi Design"
Number 4 Filter size
The Filter in the TRD CAI is around 50% bigger than standard providing better airflow and for longer - bigger surface area takes longer to block up.
Number 5 Filter inlet
Just like the TRD pipe above having a massive inlet diameter (100mm) the inlet to the filter box is huge at 100mm
How is it made
The TRD CAI is a quality product made from long lasting and strong High Temp Polypropylene. The Silicone joins are very high quality however there are a couple of things I was not happy with.
The first box I was sent the Filter seal surface area was poor --- please see image below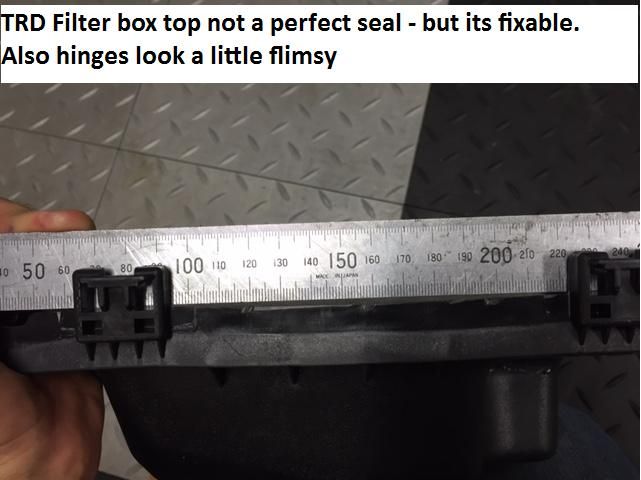 Also I was not confident on the hinges on our rough roads so I made some safety clamps --- please see image below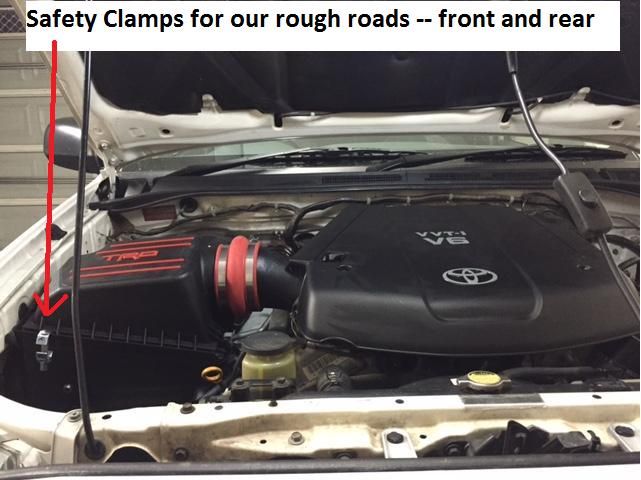 Is it Legal
Yes the TRD CAI is all States legal in the USA and exceeds the worlds toughest California pollution rules so it exceeds our almost none existent rules. Below shows the main simple reason why other CAI's are not legal and thats because the TRD CAI comes with a Carbon Trap.
For those of you who think there might be a power gain in removing it? Well its not there as we tested it!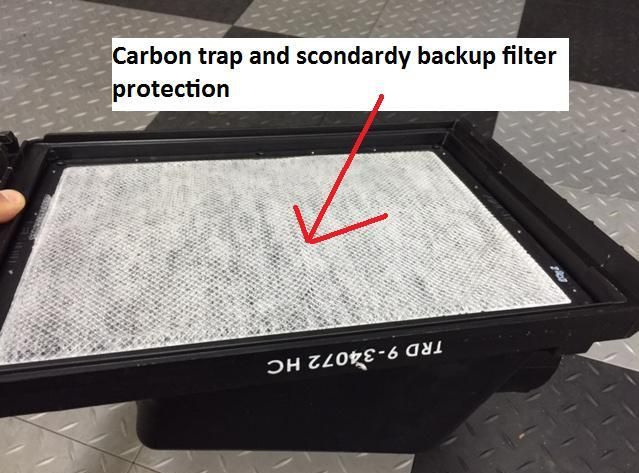 Trd Oiled Filter or FJ Cruiser Filter --- FJ filter is exactly the same size and fits perfectly in the TRD CAI
The FJ Cruiser Filter is a superior filter with is foam pre-filter on the filter itself and it showed no difference on the Dyno compared to the Oiled TRD or K & N type filter and this is usually the norm on Dynos with these things you will never find a noticeable difference. I personally dont like oiled filters as they tend to block up faster as the oil catches dust on top of the filter first than blocking the air pathways faster. In aviation they were a big thing in the 80's but everyone went back to the factory filters.
To Snorkel or Not to Snorkel that is the Question
As above the power and torque gains are without a Snorkel as all of them are restrictive including what I believe is the best on the market the Denso. Even the Denso is marked a "Less Restrictive than others". The way they are designed is the problem as they go from big inlet to small to big to small this creates a "Max Flow Ventrui" effect. Driving and "Ram Effect" has no positive effect as thats what a "Max Flow Ventrui" does ---- it restricts flow. Besides the in factory guard inlet is very well designed. Also the dust issue is debatable (Snorkel V's Standard) as the inner guard works effectively as an "Inertial Separator" and from my experience my filter compared to someone with a snorkel on the same dirt road was cleaner.
Also as the TRD CAI has a 100mm inlet and has to find a new hole in the inner guard to go through so none of the snorkels on the market will fit.
For me while I use my 4x4 as a 4x4 I have no interest in taking my truck in water deeper than the recommended factory wading depth and I have never had the need too in all my life in any 4x4. So in reality it comes back to --- "Do you really need a Snorkel" just like do you "Really need mud tyres V's A/T's
If you still feel you need a Snorkel you will have to make one and the best I have seen so far is from a member on here called "Sideways" who made his own at a complete 4" (100mm) diameter all the way through --- here is a link to Sideways build page and his purpose built Snorkel
viewtopic.php?f=41&t=24583&p=391496#p391496
he may help out with some photos and information at some stage.
Hilux Installation Procedure onto 2005-2015 GEN 7
TRD CAI P/N PTR03-35090 normally for a Tacoma 2005-2011 or USA Spec FJ Cruiser 2007-2009
This procedure is intended to be used in conjunction with the TRD installation manual that will come with your kit. I have also tried my best to find a way to install this kit on our Hilux in a way that should really only require Handyman (sorry Handy-person) skills, but some of you may prefer another method. Also I have worked out a way through very careful measurements and a modification so you dont need to
Bash the inner guard down to get it to fit
. Also Im sorry to tell you but it is impossible to get the pipe work to line up correctly with the original inner guard inlet hole and you will need to cut another otherwise the pipe work will cause problems with flow. This will mean that all standard Snorkels will not fit but I have mentioned above how restrictive they are .
Step one ---- obviously after you have purchased your TRD CAI kit
Make a visit to your local Hardware and Clark Rubber and pick up the following below ---- images also supplied
M8 x 20mm Metric Hex Bolts Qty 2, M8 Lock Nut QTY 2, M8 Lock Washers QTY 4, Bench Top Connectors 65mm, white anti rust paint, Heavy Duty Steel Angle Bracket (Black) 100 x 125 x 25mm QTY 1 and Heavy Duty Steel Angle Bracket (Black) 150 x 175 x 25mm QTY 1. Then at Clark rubber 19mm rubber Grommets QTY 4 and 24mm Rubber Grommet and 38mm Rubber Suction cup and some rubber edge protector. Then from an auto shop some silicon lube or if you like KY Jelly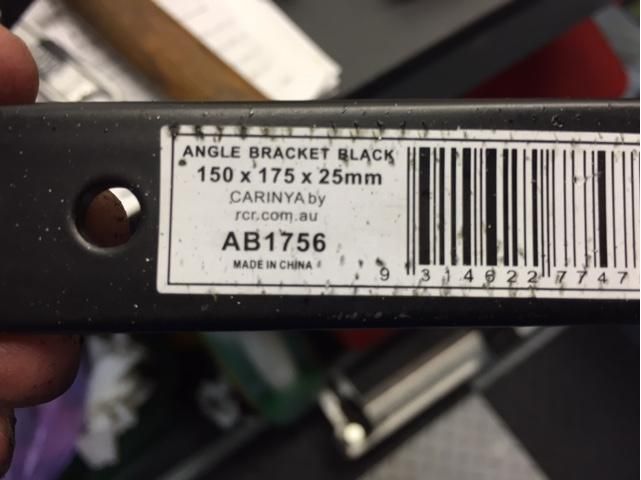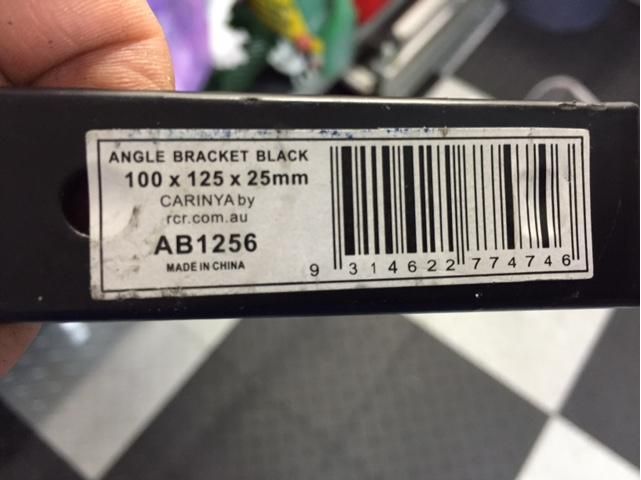 Step 2 --- modify the lower air box for mounting and prepare brackets
Install 19mm grommets into the two smaller holes and the 24mm into the post you cut off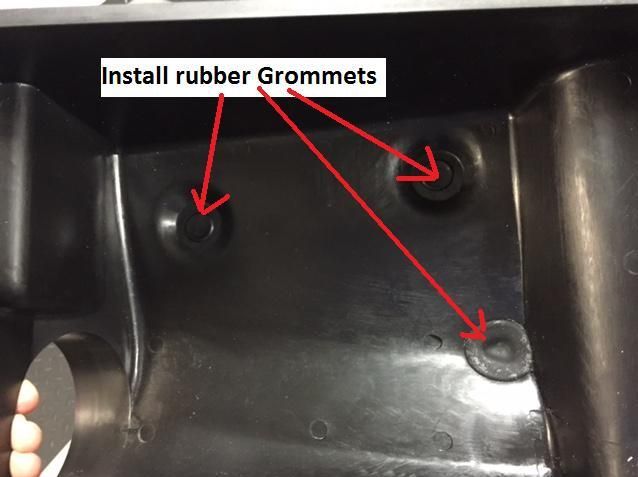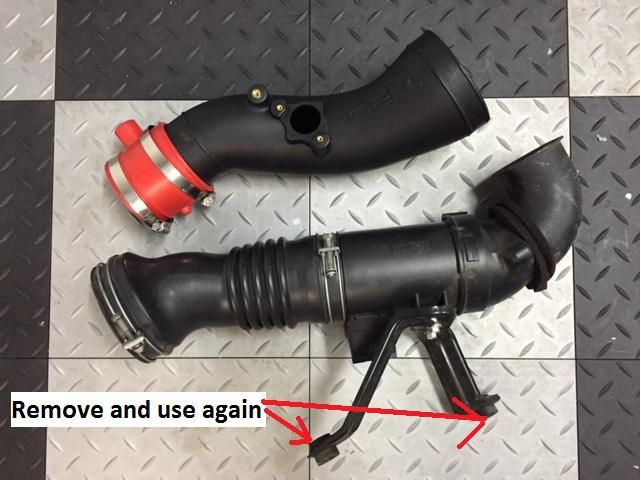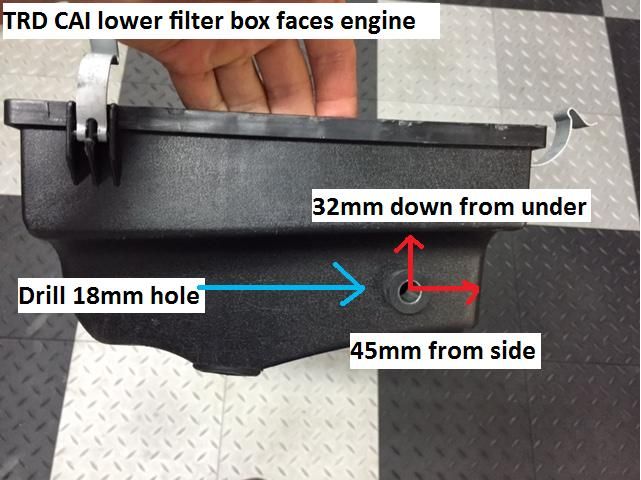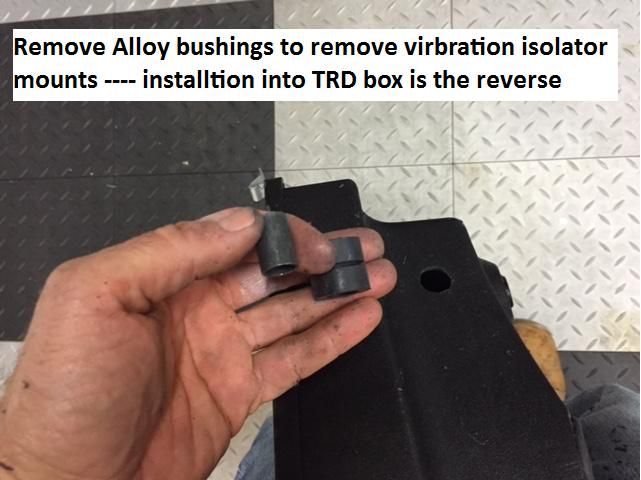 Cut smaller bracket to correct size and file off sharp edges and paint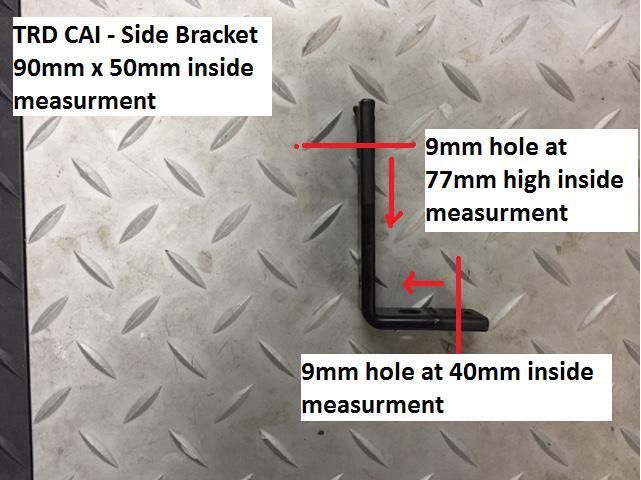 Cut larger bracket to correct size and file off sharp edges and paint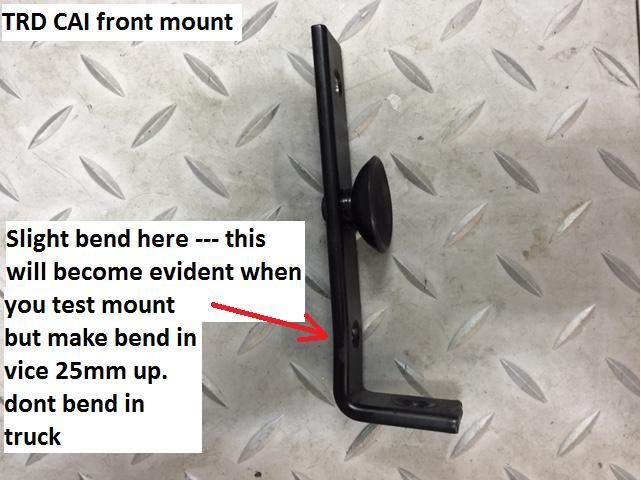 Step 3 - Prepare Top Filter cover
The TRD "Filter Minder" will not fit in the vertical position and will need to be reconfigured into the horizontal position as per below. Please note you will need to install a 19mm Grommet into the old hole ---- you can if you like just install the grommet and not install the "Filter Minder" but this thing works so very very well and will tell you when you need to service the filter rather than pulling it out all the time ---- also it will tell you when you start to drop in power before you even notice it as it works so well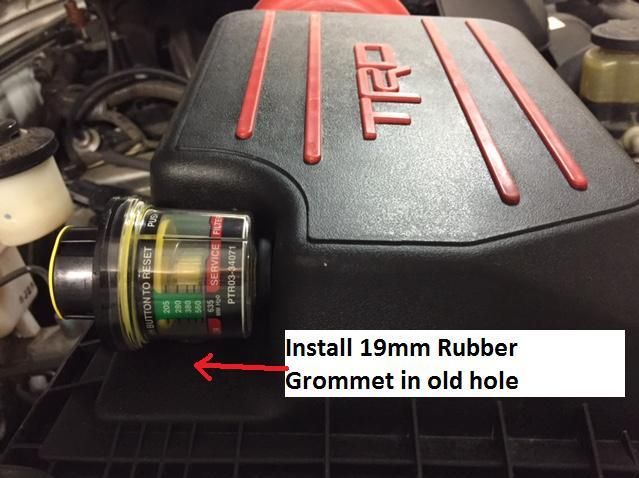 After drilling the new hole for the "Filter Minder" please please please vacuum out and material.
Step 4 - installation preparation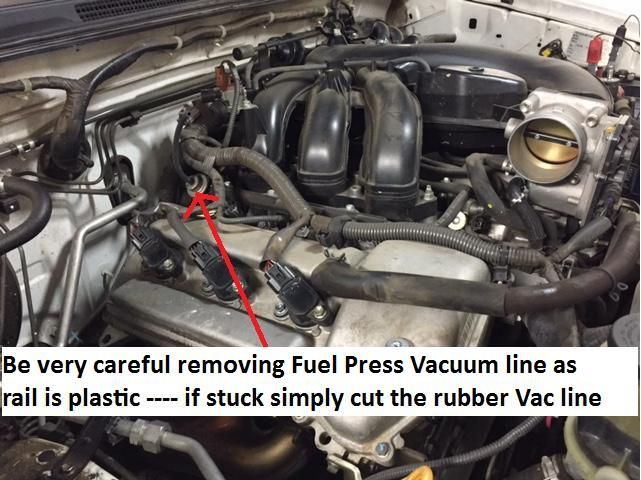 Step 5 - Temporarily install TRD CAI with filter element inside to mark inlet hole in guard for cutting
Insert main pipe into red rubber silicone seal up to first indent --- for supercharged models you may have to cut the first indent off but I would test fit first. Also here is a YouTube video on how this can be stuffed up but for naturlly asperated engines you dont want to cut as you need this pipe as long as possible for power and torque
https://www.youtube.com/watch?v=TfMpeTdseMU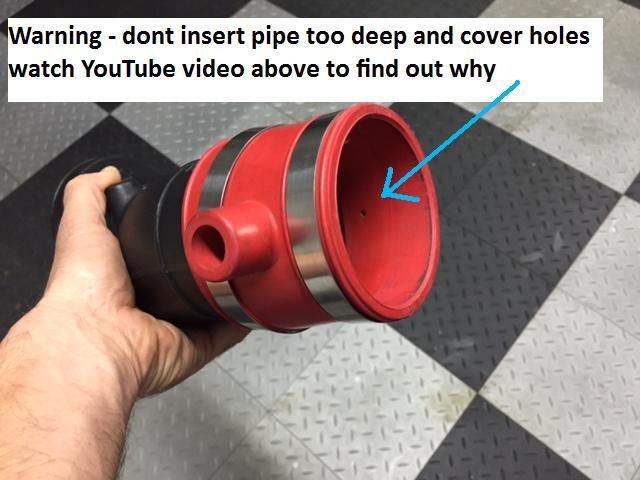 Install the brackets as in the image below with the small one next to the engine and the large one with the vibration dampener (38mm Suction Cup) towards the front. Us the two M8x20mm bolts and M8 lock washers you purchased. Yes they use the original Hilux body mounts
Place box into guard and mount - use the original M8 bolts from the Body mounts into the box using the M8 lock nuts you purchased.
Dummy mount the pipe --- you may need to use the Silicone lube now but be careful not to get it in the engine or filter box -- also dont tighten any clamps you are simply dummy mounting at this stage. Use tape to cover any holes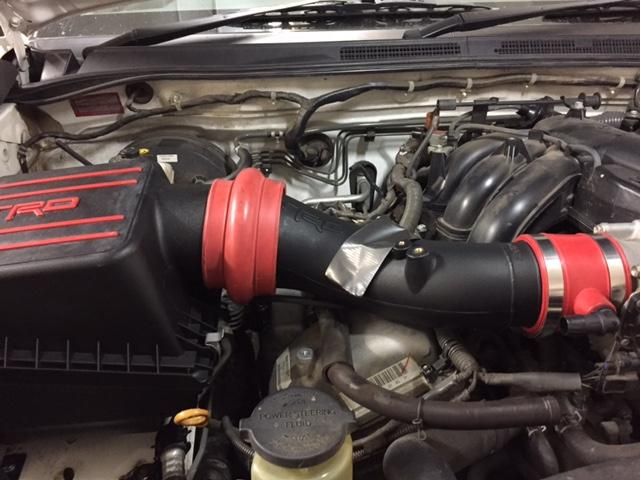 Once it is dummy mounted the next step is crucial for perfect alignment --- its actually the plastic cover that has the words V6 VVTi on it that will determine the final sitting place or angle of the box. see below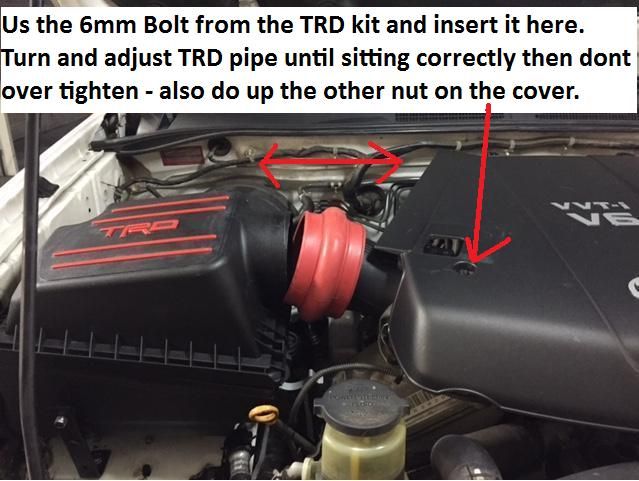 Next is to get the angel of the box just right and the image below is the best was to show you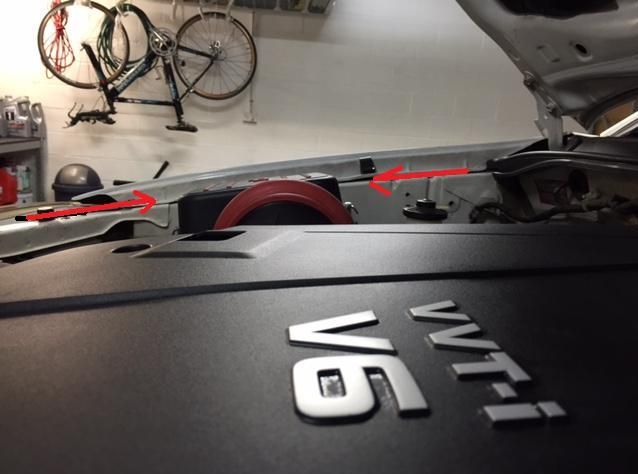 Once the angel is right you may now need to give that front bracket its little bend to the forward bracket - please take it out and do it little by little in a vice - remeasure if you have to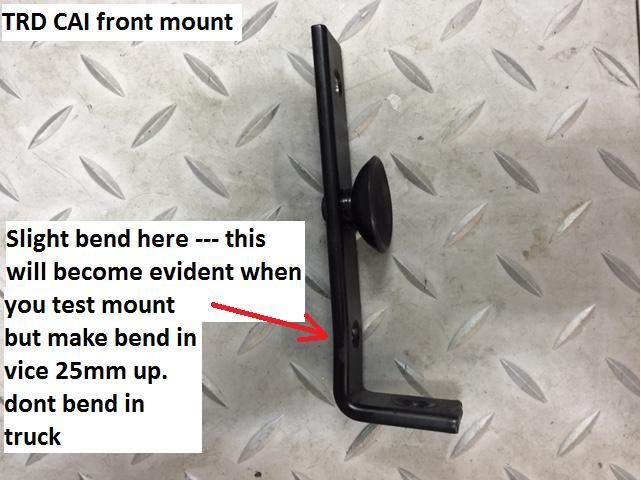 Once this is all done you will then need to mark the hole for cutting in the inner guard. The bottom of the hole should start where the body work folds up to the side bodywork. You cannot miss it as its spot welded there.
Step 6 --- the cutting of the hole
The hole will be 100mm but you will need clearance so I made mine 110mm so that gives a neat 5mm gap all the way around. You can use a hole saw but if you cannot get one that big use a 1/8 drill bit and drill drill drill then file to a neat finish.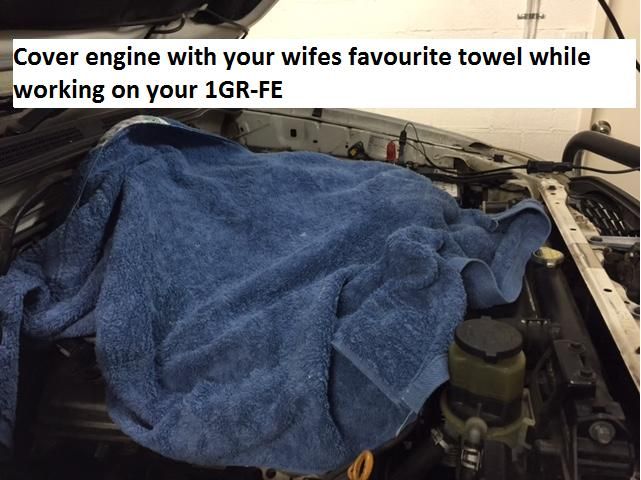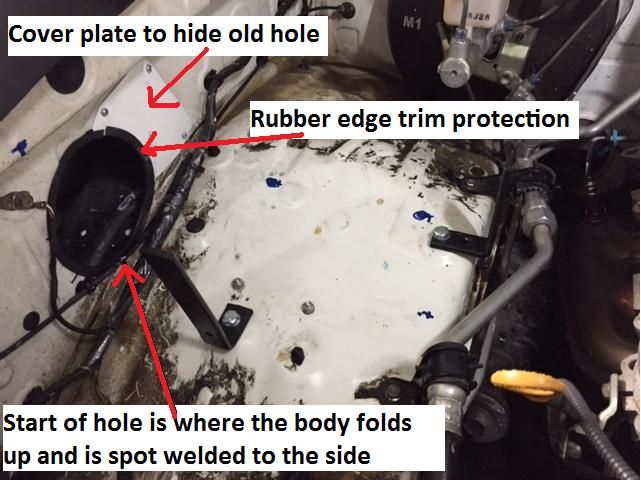 Use Anti-Rust paint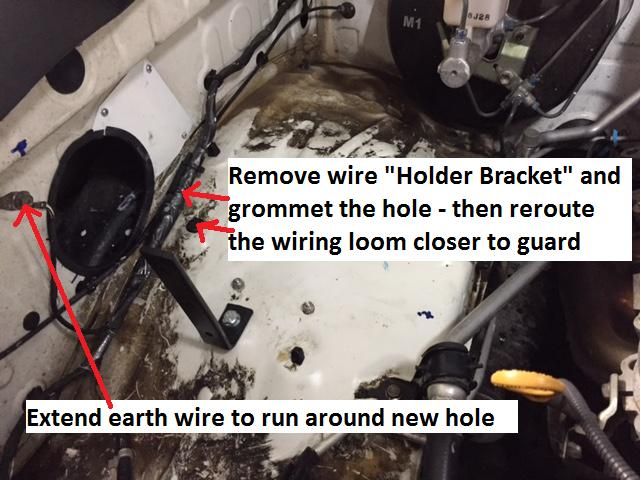 Step 7 - install Fuel Pressure Vac Line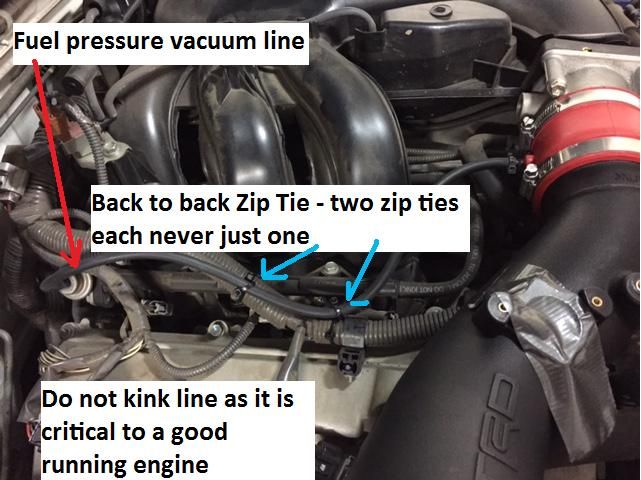 Step 8 - install rest of system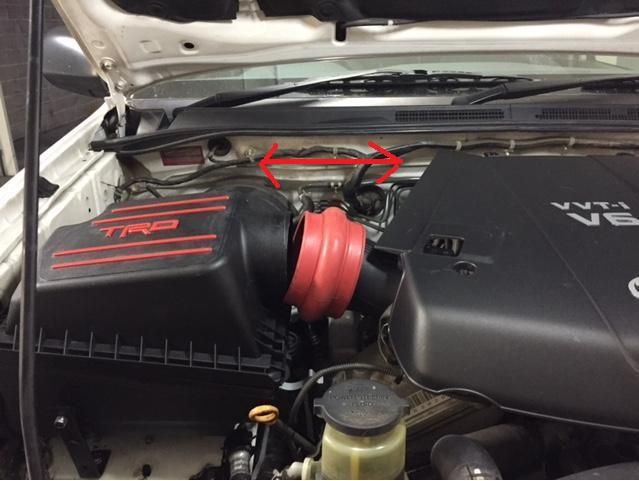 Do not over tighten clamps on silicon joins - also after a week running come back and check tighten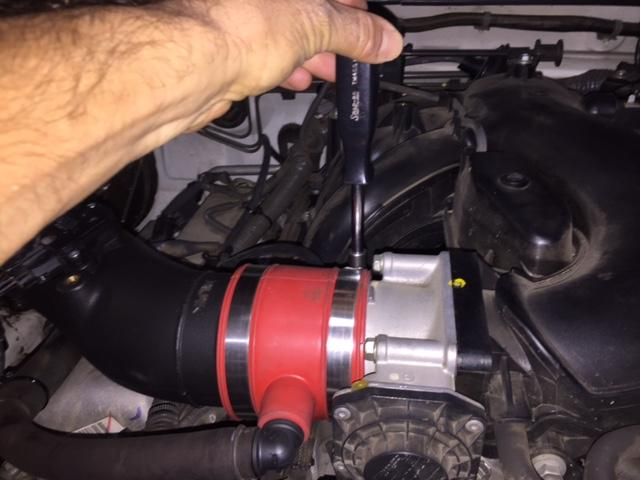 Finish any wiring with back to back zip ties so wires do not work harden and fail due to vibration -- in the case be low use the stainless bracket and bolt - please note if using a 20mm long 6mm bolt in the cam cover please ensue it does not bottom out.
Just beautiful ---- Horsepower and Torque in a Box!!!!!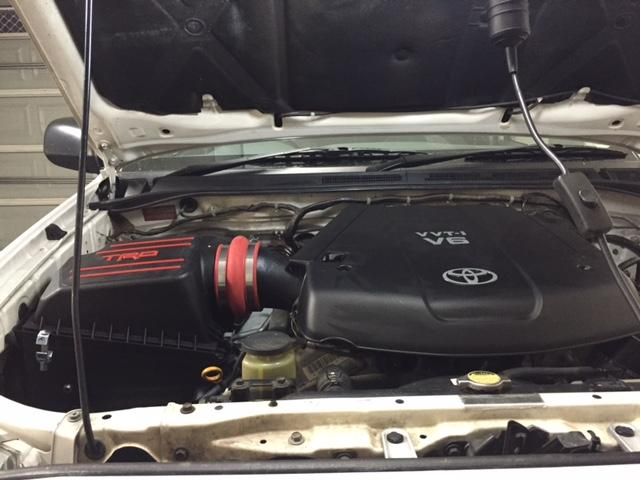 Handy to know Tips

---

if you have a bull bar that the manufacture was too tight to make a cover for under its side wings it would be a very good idea to make some to stop water mud and dirt getting up inside there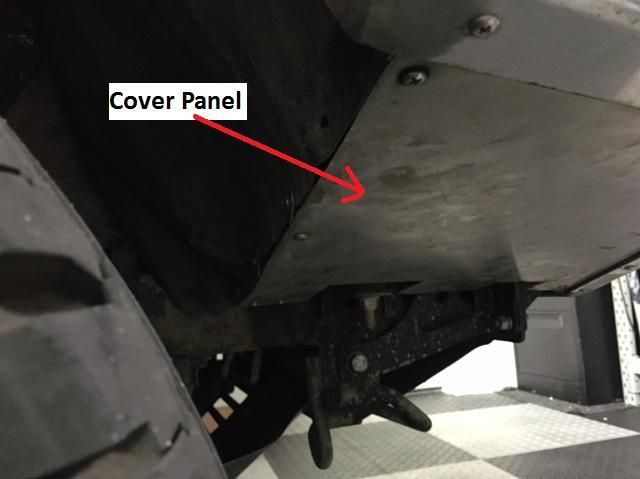 Tip 2
When installing the filter into the TRD Box it is very important to get this right
Tip 3
If you accidently cut the inner guard hole too large dont panic and use some "D-Seal" from Clark rubber and run around the hole
Cheers Gulfstream8 ---- enjoy responsibly