Hey,
Monster Rides is proud to offer our NewHilux friends the Muzzbar, from the fabrication wizard Nic at South East Queensland Fabrication.
https://www.facebook.com/seqfabrication/
This bullbar is customisable to your needs and offers great style, strength, approach angle and durability.
At the moment these are the models we have bulbar available for:
A. 2005-2011 N70 Hilux
B. 2012-2015 Facelift N70
C. 2016-2018 N80 Hilux
- The new 2019 N80 facelift will be released shortly, the final prototype is almost finished.
All of the Muzzbarrs are
ADR complaint, and have been airbag crash tested.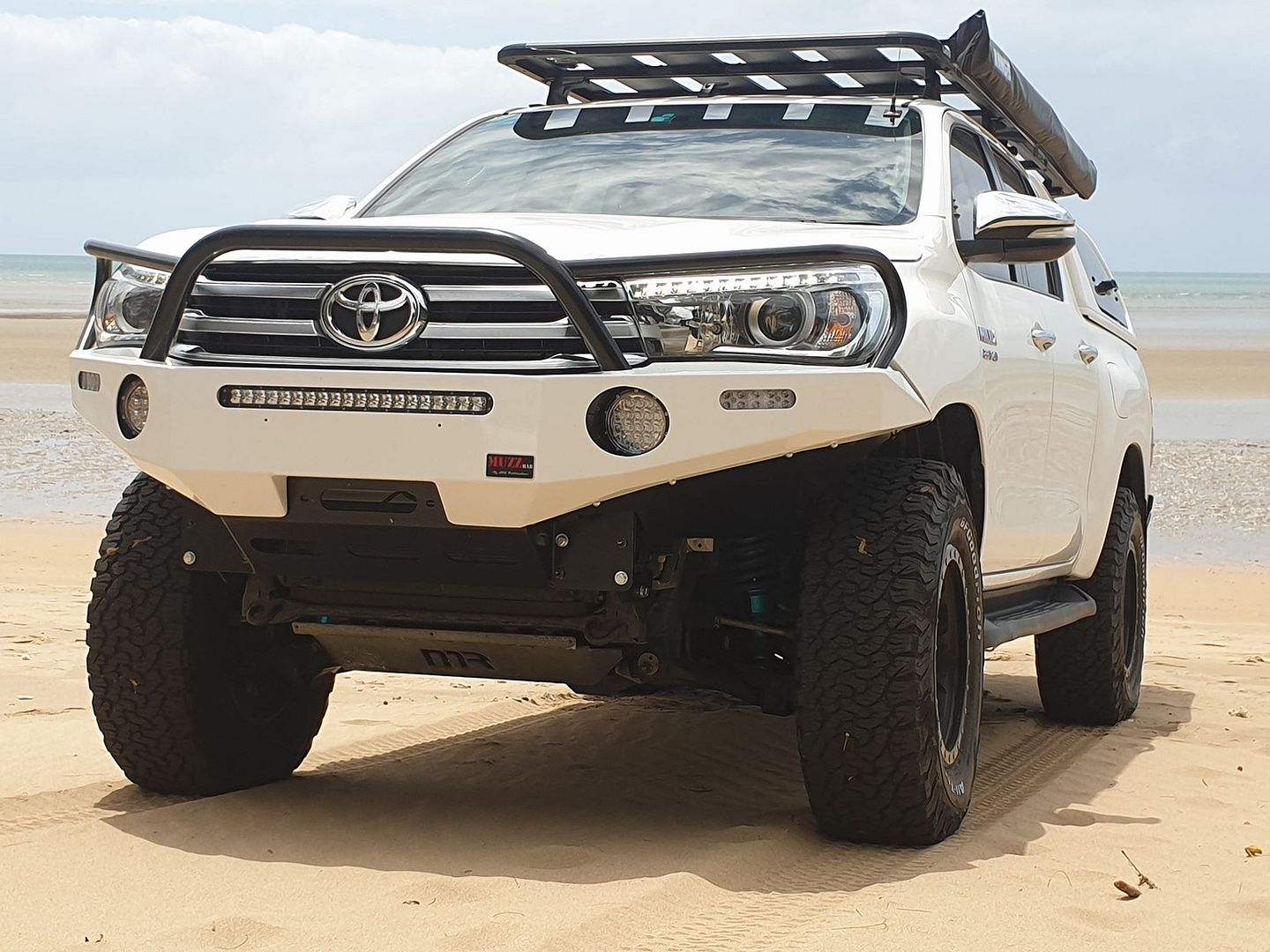 The bars are made for a combination of 3mm, 4mm and 5mm of Australian steel.
The bars are made in Australia, in Burleigh Heads on the Gold Coast QLD.
There are a number of configurations available, here are the options.
1. Basic hoopoes Muzzbar @ $2495.
This bar comes in a standard satin black powder coat, which is layered on top of a sand blasted, zinc primed and baked undercoat for long lasting durability.
Note this image shows the model with the recessed 20" LED option - From $2995.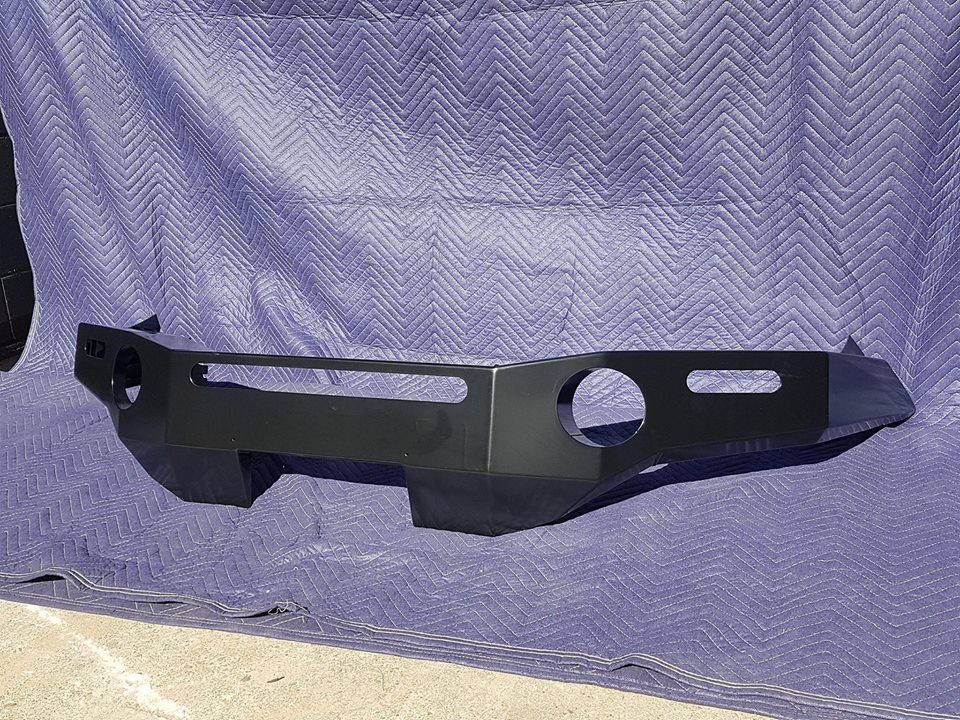 Standard features:
- LED blinkers
- 5" Round LED Spotlights
- All bolts/fixings come standard with this bar, so it's ready to bolt on with nothing else required, and ZERO modifications require to fit it.
2. Hoop Options:
A. Single Centre Hoop @ $150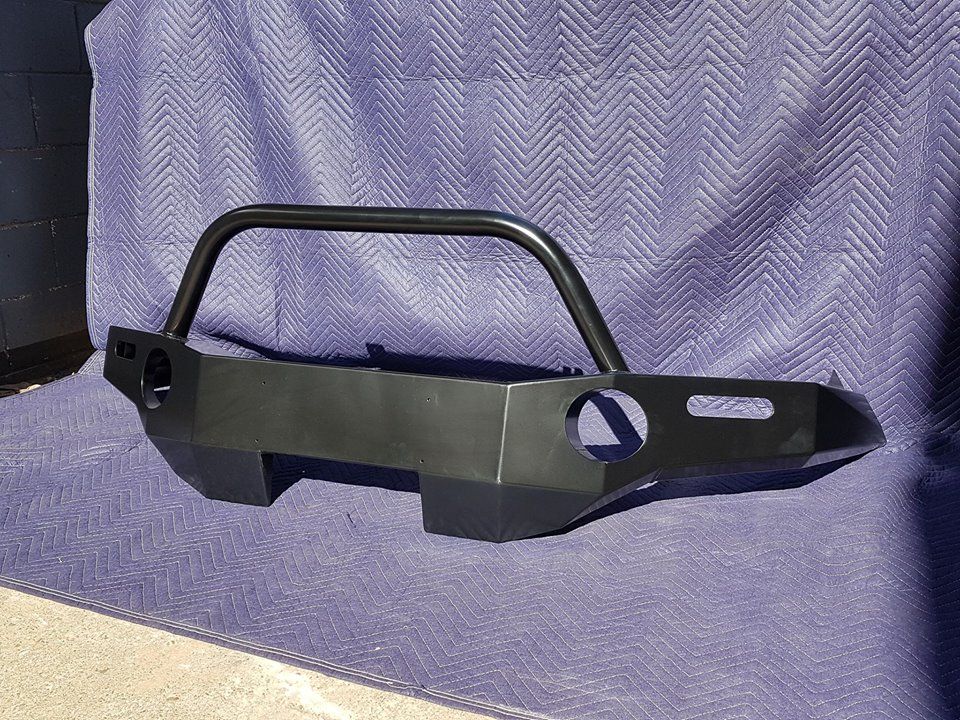 B. Angry Eye Triple Hoop @ $250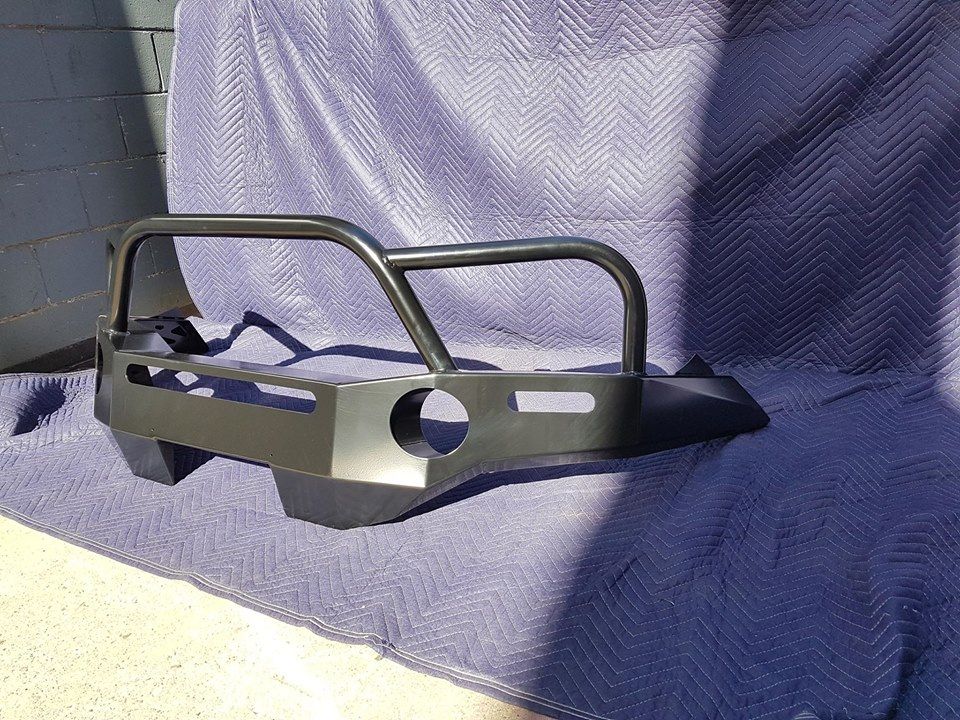 Both of these hoop options come with two spotlight/aerial tabs included for free with positioning up to the customer.
Popular configurations are:
- Two aerial tabs on the passenger side for a UHF and 4G antenna
- Two tabs on the outer edges of the centre hoop for spotlights.
- Additional tabs can be added @ $50 each to any part of the top/horizontal part of the tube.
The tabs are slotted for easy aerial attachment.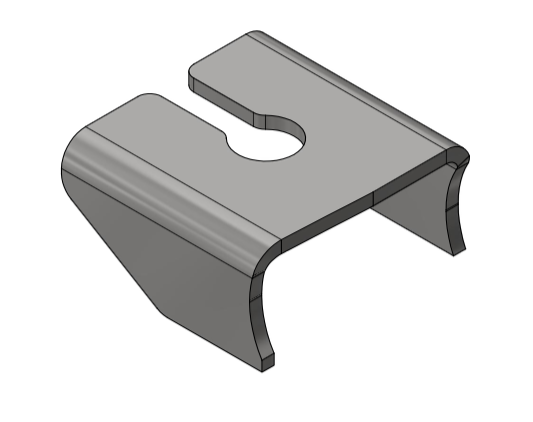 3. 1"/25mm or 2"/50mm Bodlift cradle @ $150
The bar itself is separate to the winch chassis cradle mount, so you can opt to buy the bar to suit a 1"/25mm or 2"/50mm bodylift at any time.
$150 when bought at the same time as original Muzzbar, $350 to swap out at a later date, plus freight.
The cradle will fit most low mount winches with a narrow side mount motor.
Here is a list of winched we have already fitted:
- Carbon 12000 lbs
- Kings Winch
- Runva 11XP
- TJM Ox
The width inside the cradle from the centre of the mounting hole to the edge is 175mm.
- A highmount winch can be fitted, there is an additional fee of $125 for the fabrication required.
4. 20" Recessed LED Light Bar
This is recessed into the bullbar for a crisp look, and extra security as it is very difficult to get to once fitted.
We have a couple of brands on offer, with a choice of beam pattern.
The Aurora is a very high quality LED at the top of the lower end of the market, while the Baja Designs or Rigid Industries are at the top of the market offering a very high quality product.
C. Aurora 20" LED Light bar $500
http://www.szaurora.com/productshow.asp ... =001002002
D. Baja Designs 20" LED Light bar $1250
https://www.bajadesigns.com/products/S8 ... t-Page.asp
E. Rigid Industries 20" LED Light Bar $1250
https://www.rigidindustries.com/sr-seri ... eries.html
5. Colour coding @ $350.
Any factory colour is available, we generally keep the hoops and cradle in the satin black powder coat, with the paint sprayed over the powder coat on the rest of the bar for the colour coding.
This is gives the bars a very unique look, and keeps the glare bouncing back to the drivers from the headlights to a minimum from the hoops.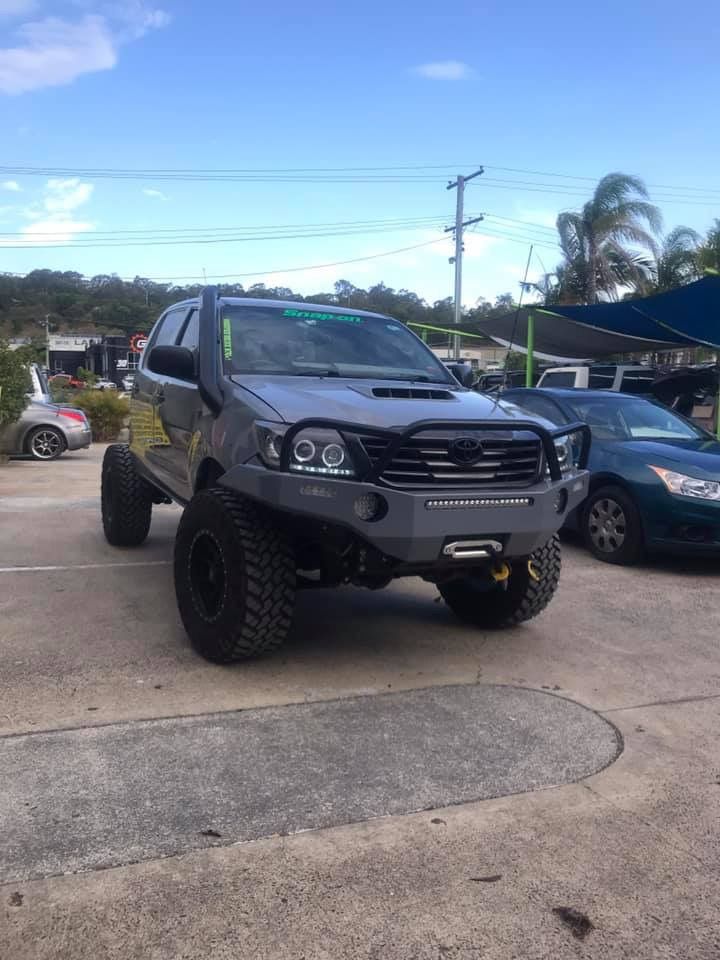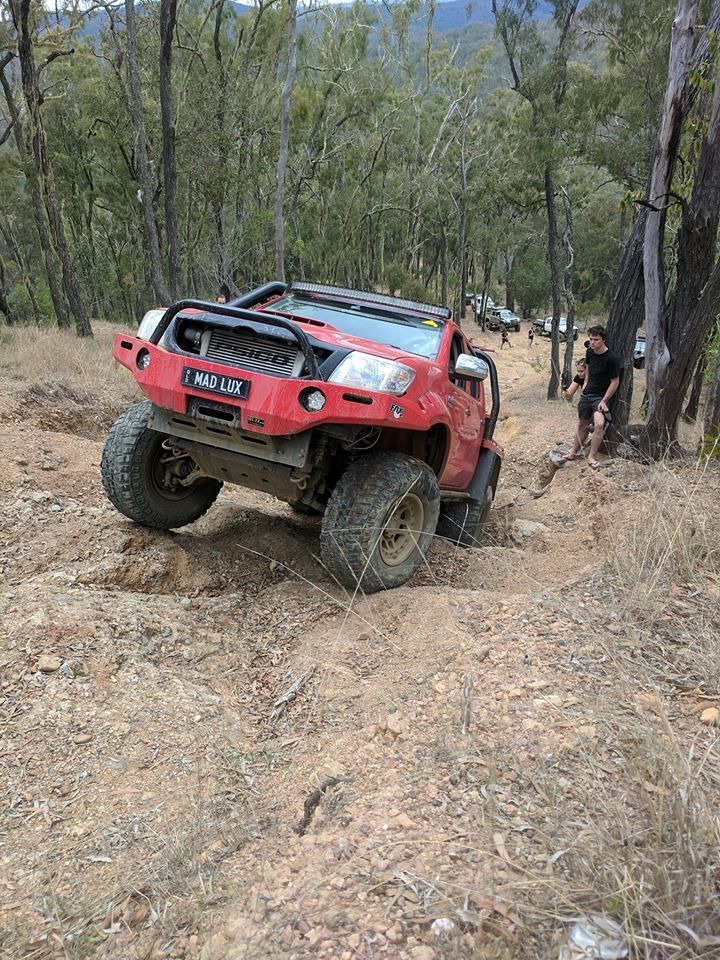 6. Raptor Liner coating @ $450.
Add colour coding on top of that for an extra $250.
Opt for Raptor or powdercoat on the hoops.
This customer opted for Raptor on the while bar, hoops included, then the body fo the bar colour matched to Sandy Taupe.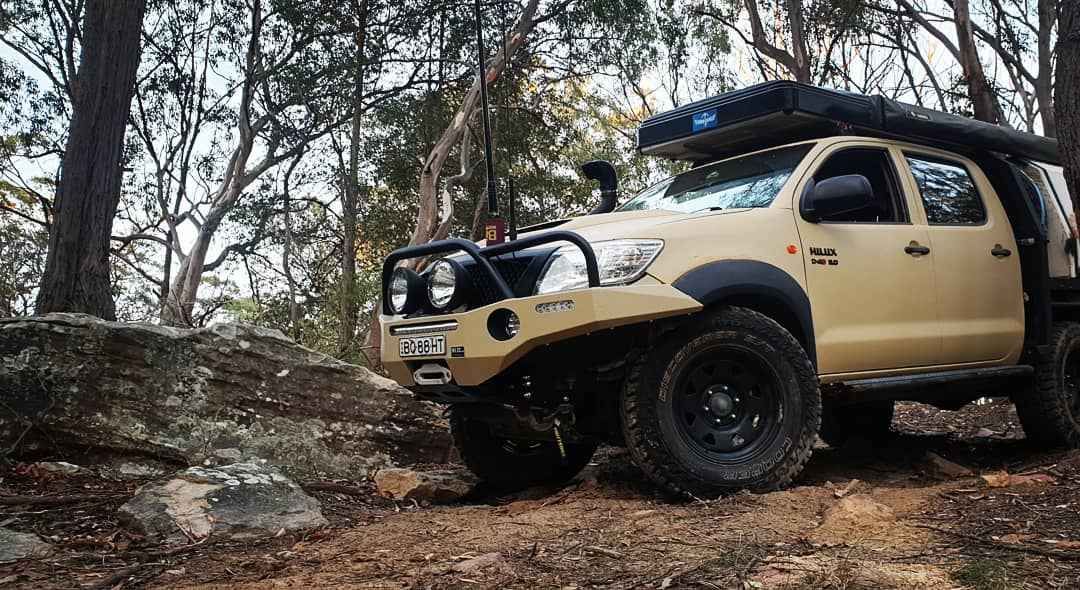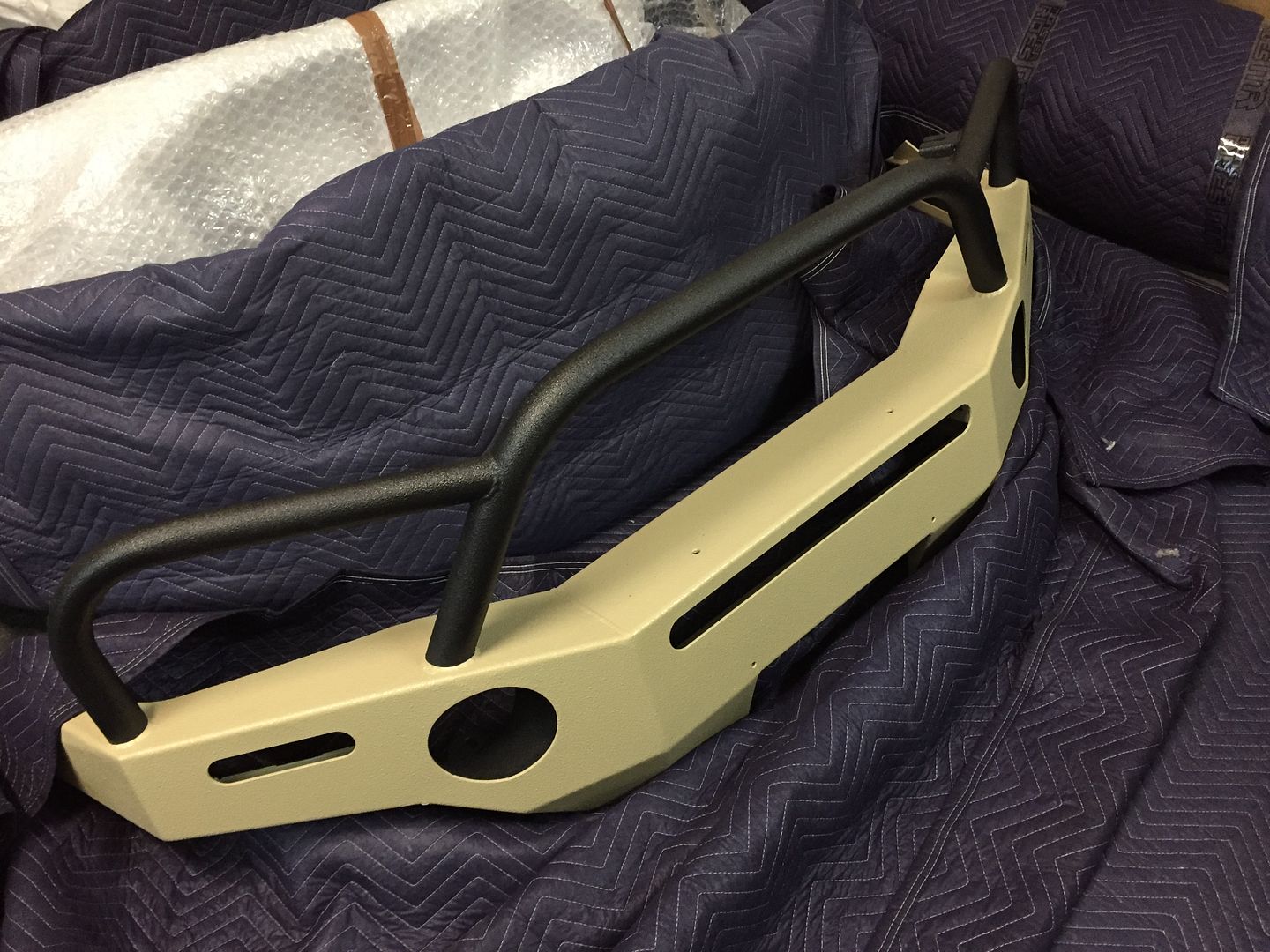 7. Recovery Points @ $150
We use RoadSafe recovery points on the N70's, price is $150.
Still working out a recovery point for the N80, most likely Roadsafe.
8. Spotlight Holes
Mounting holes for 7" / 9" can be drilled upon request under the centre hoop only.
These are not done as a standard option and need to be requested at the time the bar is ordered.
No charge for this option.
Some notes on the bars:
- The hoops can not be altered in any way. No new angles, or tube thickness. PERIOD.
They have been crash tested the way they are and can not be altered to keep ADR compliance.
Apologies.
- Bars will NOT be provided in raw steel.
They are only available in powdercoat or powder coat/paint combo or Raptor Liner.
We can look at some custom powder coat options if required, our powdercoaters use Dulux powder.
- Generally speaking bars have a 3-4 week lead time on bars that are not on the shelf, in stock.
If we have laser cutting stock on hand to use then the lead time is 2 weeks depending on what is required.
We have completed stock from time to time, so you might get lucky and have a shorter wait.
- We take a $1000 deposit to secure the order, with the balance due when the bar goes to it's final coating, either powdercoat to paint.
- Shipping… we ship them anywhere.
The bars package like so:
Width on the pallet 2000mm
Height including the pallet 1000mm
Depth is 700mm for the hooped bars, 500mm for the hoopless.
Weight is under 100 kgs.
All bars that are being picked up, or shipping have a $50 wrapping and packaging fee.
Rough freight guide:
Sydney Metro @ $330
Melbourne Metro @ $380
FNQ from $350 - $750 depending on location
Perth @ $600 for a depot pick up in Kewdale
Adelaide Metro @ $420for a depot pick up in Kidman Park.
Bars CAN NOT be delivered to residential addresses, commercial only and must have a forklift onsite.
Otherwise a depot pick can be arranged.
We use TNT, e-go and other freight companies depending on the location of delivery required.
- Pick up or installation from Burleigh Heads QLD
Standard install, no winch @ $350
Install with a winch @ $450
Install with a winch, and LED Light bar @ $500
Add customer supplied 7"/9" spotlights for $50.
Based on standard wiring… if you present a birds nest of randomness under the bonnet for current lights you will be charged more.
If you car has been in an accident and install is not straight forward you will be charged more dependent on time.
There is limited stock available for pre Christmas delivery/install.
If you have any questions please let us know.
To order feel free to email
sales@monsterrides.com.au
Or message the SEQ Fabrication Facebook page directly.
https://www.facebook.com/seqfabrication/
Thanks,
Matt