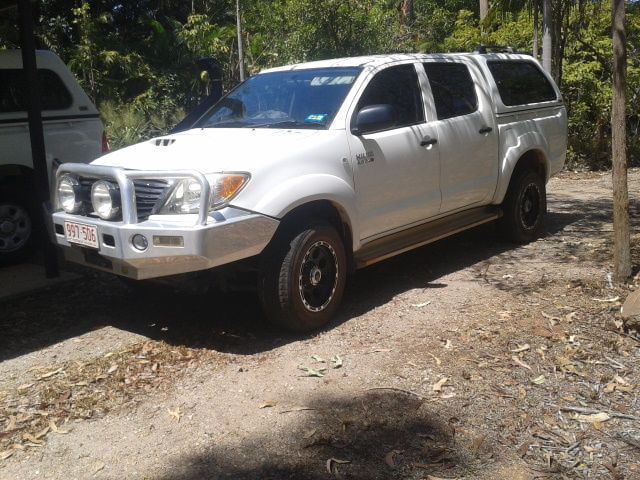 Hi
am relatively new here and just worked out how to post pics, so I thought id show my build.
Started of as a stock standard white 07 SR dual cab, skinny 29" tyres, only extra on there was a carryboy canopy, had 70k kms.
on condition of purchase I got a towbar, tint including canopy windows and canvas seat covers
I have a pic somewhere of it standard..... but i am sure we all know what they look like.
first of I scored a set of allied black thunder 16×8 rims with 30 " dualers for $700, i had them fitted but and they stuck out heaps so I ordered flares asap. ( see pic above) and scored a tjm ally bar to mount my hella 4000s I had in my shed from my cruiser.
next I custom made a storage set up for the tray, permanent mounted blue tongue compressor , 2
0 L water tank, and fridge mount, removable centre divider means I can still use the full lenghtnof my tray when I need to, this set up allows maximum storage.....